You might be wondering if any one brand of resin is better than another when it comes to making resin geodes. I have tried a few brands and they all seem to work pretty much the same. Some may be thicker or runnier than others at room temperature (the viscosity) and if you have a choice, you may wish to pick a brand that is on the thicker side for your resin geodes.
Sometimes one brand of resin may have a longer 'open' time, sometimes called 'pot' time, which is the time from mixing to the time it starts to cure. This can typically be anywhere from around 20-45 minutes, although resins with much longer working times are coming onto the market.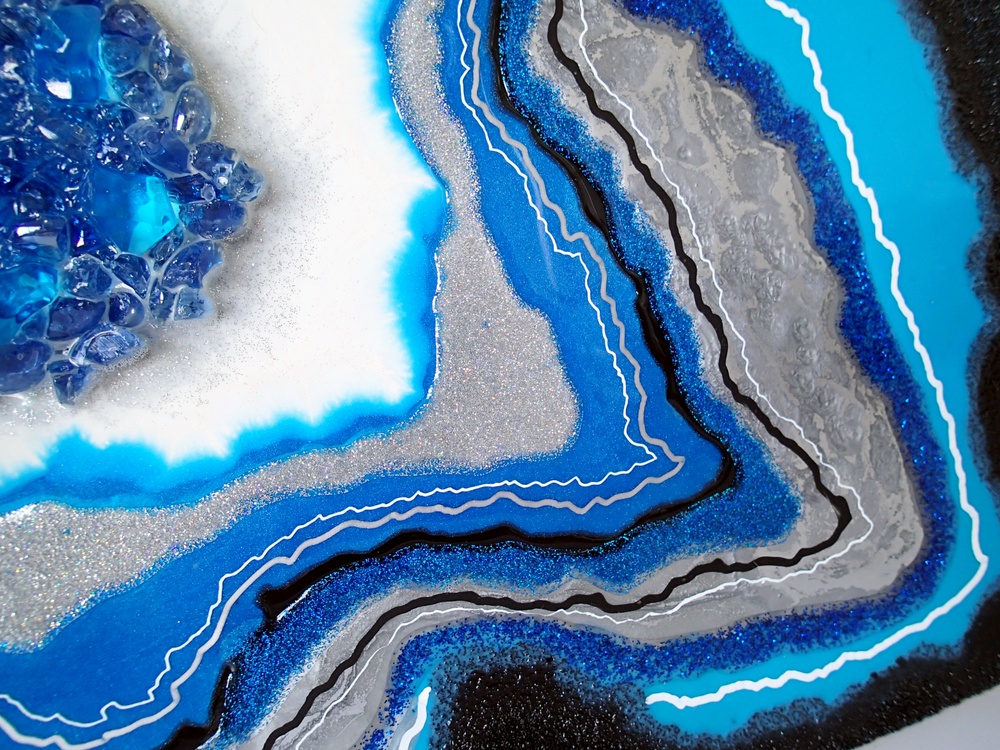 Some resins seem to be thinner or thicker than others and depending on how you like to create your geode – all at once with blended layers, or with separate and distinct layers, having a thicker or thinner consistency might work for you better.
You may already have a favorite brand of resin you work with, and so long as you are happy, there is most likely no reason to change to another.
Considerations when picking a resin to work with:
Availability – just because another artist prefers a particular brand it doesn't make it the 'right' one or only one to work with. Don't spend all of your cash bringing in a foreign brand from overseas if you have perfectly good resins available to you locally. Pick a resin which is easy to get hold of.
Budget – some resins are cheaper than others. You may go to the DIY store and see industrial epoxy products for use with flooring, worktops or even in the marine environment for finishing yachts. These might not have the best features for creating art and are perhaps best avoided even if their price does appear to make them attractive. Instead, go with the best art and craft resin you can afford at a price that will give you enjoyment in your creation without causing you to stress about lost money if a project doesn't work out as planned.  Check my resin price comparison table here to see some of the more popular brands, in all of the available sizes, so that you can compare which brand and size is best for you.
Open time – you can usually find the working time in the product instructions or on the manufacturer's website. If working on a very large project a longer open time might be more useful. Smaller pieces poured in separate layers will rarely be a problem unless the resin 'seizes' due to overheating or a reaction with an additive.
UV protection – some crafting resins have varying degrees of UV protection built in, and some brands will yellow or 'amber' more or less than other brands. But don't always be lead by manufacturer claims. I've seen several resin brands claim their product is non-yellowing, and yet in a test against other brands, they may have yellowed more or the same as brands that make no such claim. Use your own experience and research when picking a brand that promises UV protection. Check out this article on the Art Resin blog about UV protection . (Although this is not a personal endorsement of any brand.)
Ease of working – many of the art and craft resins claim low or zero VOCs and that they are certified as safe for home use without a respirator. Unless you have a strong preference for a brand that requires a respirator as mandatory, then it's usually best to pick one of the low VOC options. However please refer to the safety section and be sure to work in a well-ventilated area. Use a respirator for added safety and if any sensitivity or allergy may apply.
Helpful resources
Price is of course, always a consideration with expensive supplies like resin. Check out my resin comparison table here which has many of the commonly used resins, and the prices for each size bottle available. Then you can more easily compare prices across sizes and brands. (Prices are always kept current automatically)